Abu Dhabi Police E-Services
Integrity and Honesty: we will maintain highest levels of integrity and honesty at all times, including our concern for human rights we will deliver a fair and courteous service to our community.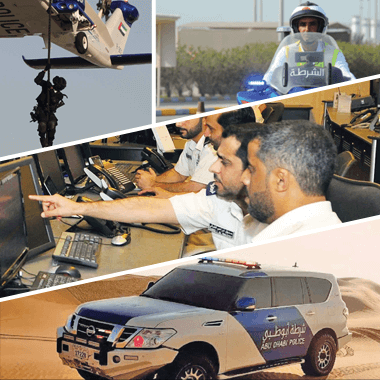 A long march of giving and a symbol of security and affiliation
About Abu Dhabi Police
Since its inception, Abu Dhabi Police GHQ has been keen to implement the late Sheikh Zayed bin Sultan Al Nahyan's statement: "The police is the cornerstone of the stability of the country's security and the spread of peace among its people".
The historical stages through which Abu Dhabi Police had passed for more than 50 years since its establishment (in 1957), are the harvest of the effort and vigilance of loyal leaders and great figures of police personnel. His Highness Sheikh Khalifa bin Zayed Al Nahyan, President of the UAE, said in his praise of them: "The security and tranquility of our country are the fruit of the efforts of those loyal men, who fulfill their responsibilities and carry out their missions sincerely, day and night, towards their country, their citizens, and towards all those residing in this country. The Police has always lived up to our expectations, as we all realize the great role they play in the face of the radical changes and rapid development the country is undergoing".
Abu Dhabi Police on Social Media
Keep in Touch with us